Location and Accessibility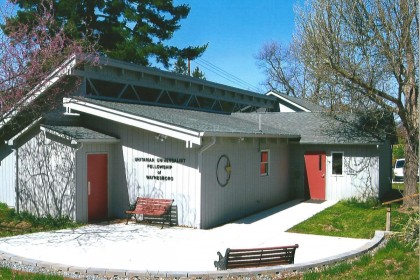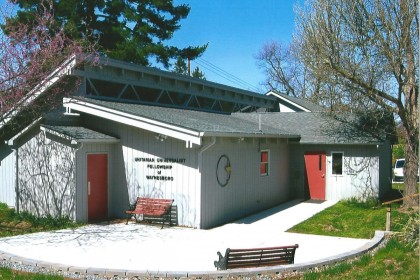 We meet in the heart of the "Tree Streets" of Waynesboro, Virginia, in our Fellowship Hall and in the Chalice House, which is the home to our administrative offices, meeting and activity rooms, and religious education classrooms.
Accessibility
None of our entrances have power assist doors.
The Fellowship Hall entrances are both at sidewalk grade, with no steps.
The Chalice House entrance has an accessibility ramp.
The Fellowship Hall has two non-gendered single-stall restrooms that are accessible, while not designed to be ADA-compliant in every detail.
The Chalice House ADA-compliant non-gendered restroom is currently under construction on the first floor and is expected to be completed by the end of June 2021.
The Chalice House was build more than 100 years ago as a family home and has no elevator or stair lift for access to the second floor. Because of this limitation, we plan for the use of downstairs space for any class or activity when mobility/accessibility issues are at issue.
The nursery is currently on the second floor, though moving it to the first floor is under consideration.
Entrances
The main entrance to the Fellowship Hall faces Pine Avenue. Another entrance faces a small parking lot located behind the Fellowship Hall. The entrance to the Chalice House also faces Pine Avenue.
Parking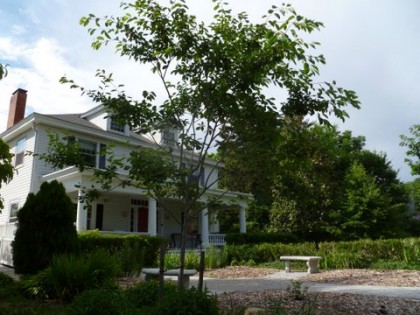 Pine Avenue and the surrounding blocks offer on-street parking. Limited off-street parking is available behind the Fellowship Hall. Handicap Accessible parking spaces are marked by signs and blue-painted curb space immediately in front of the Fellowship Hall on Pine Avenue. There is also a loading zone immediately at the end of the sidewalk leading to the Fellowship Hall entrance where people with mobility issues may be dropped off by drivers who will park elsewhere.
Directions
Our Google Maps link offers you door-to-door directions for driving, walking, or biking.
UUFW is at the corner of Pine Avenue and 14th Street near downtown Waynesboro. From I-64, take exit 94 toward Waynesboro. Follow US 340/Rosser Avenue to the light at the cemetery. Turn right on 13th Street and, at the second stop sign, turn right onto Pine Avenue.  The church is on the right at the end of the block.
Coming into Waynesboro from the West on US 250 or the North on US 340, turn onto Rosser Avenue (US 340 South) at the Burger King. Take a left onto 13th Street at the stop light. At the second stop sign, turn right onto Pine Avenue and look for the church on the right.